Orthodontics is a branch of dentistry that focuses on the alignment of the teeth. Misaligned teeth can lead to a lot of concerns, such as cavities, excessive accumulation of plaque and tartar, and, most importantly, a displeasing smile. Hence, we recommend patients get their malocclusion treated at a young age so that the teeth can adjust to their new positions better with fewer complications.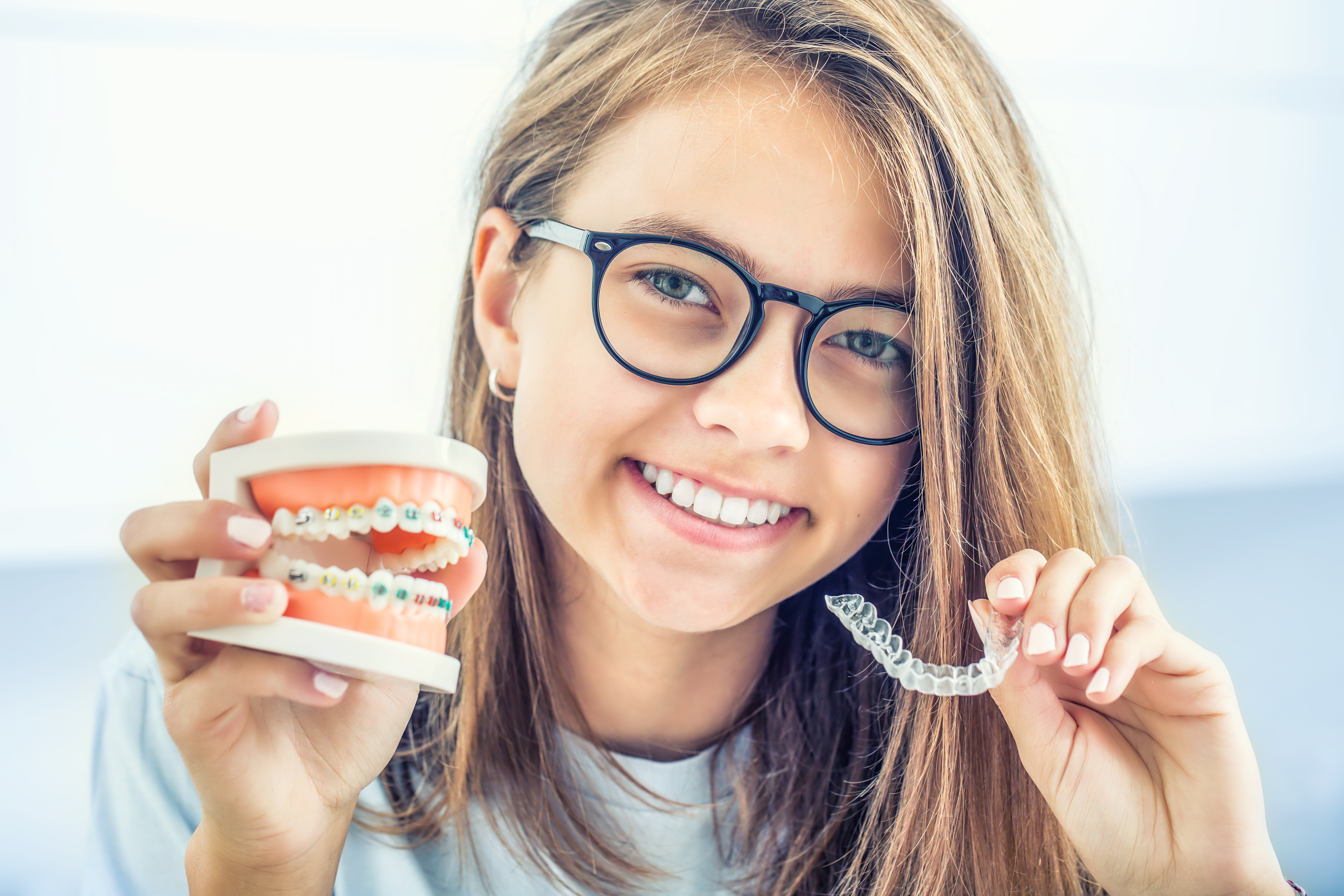 Some of the most popular orthodontic appliances are dental braces and clear aligners such as Invisalign.
Dental braces
Braces are composed of brackets and wires, which are either made from metal, transparent plastic, or tooth-colored ceramic. The dentist will bond brackets to your teeth using dental adhesives and run wires through them. The ends of the wires will be fastened, and they can be tightened or loosened to increase or decrease the pressure applied on the teeth. Braces are known to treat some of the most complicated types of malocclusion, such as crossbite, open bite, overjet, etc. However, they do have a few drawbacks, which led to the development of clear aligners.
Invisalign
Invisalign is the go-to solution to treat malocclusion in recent times. It is made from clear, dental-grade plastic, which keeps the aligners in disguise while moving the teeth to their orthodontically right positions. Invisalign looks pretty much like a sports mouthguard, and can be worn and removed as and when required. Since Invisalign is entirely metal-free, the chances of enduring oral injury due to the aligner itself is next to none.
Comparison between braces and Invisalign
Braces are predominantly composed of metal components. Invisalign is made from shape-memory plastic.
Braces can correct some of the most complicated cases of teeth misalignment. Invisalign is used for comparatively simpler cases.
Since Invisalign doesn't contain any metal parts such as brackets or wires, the soft tissues of the mouth do not stand a risk of getting injured due to it. However, with braces, patients could sustain oral trauma when they take a hard blow to the mouth or get injured while playing sports.
Invisalign is backed by state-of-the-art technology. Patients will be able to get an idea of how their smile will look after the treatment and how long the treatment will last using the digital simulation. This option isn't available with dental braces.
The best feature of Invisalign is that it is virtually invisible. On the other hand, braces are quite apparent and would make your smile appear displeasing during the course of the treatment.
To have a consultation with our professional dentists in Herriman, UT, please schedule an online  appointment or call us at (801) 542-0998, and we will be happy to help.